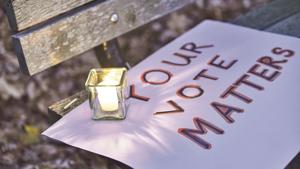 Turnout to a Brattleboro anti-Trump demonstration was light after the AP "declared " Biden won. That could change if a court challenge looks like it might succeed.
"With every tweet and refusal to commit to accepting the legitimate results of the 2020 election, '45' seeks to stoke chaos and fear," organizers wrote. "But we will be ready — if '45' tries to steal the election or prevent every vote from being counted, Protect the Results will activate nationwide mobilizations to demand that all the votes are counted and for the peaceful transition of power."

---

---
Read the Full Story at:


(click logo to be directed to the story)
Comment Below... And find more stories on Water Cooler
Do you like this post?
---