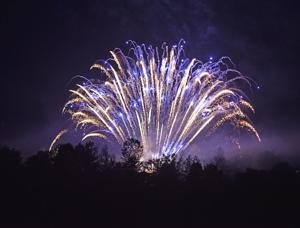 Normally the Town of Stowe wants a big crowd to gather for fireworks on the 4th. But not this year…..High-altitude rockets will be used so that people will be able to see Town of Stowe fireworks from far away - good thing because no public parking or restrooms will be available.
"Fireworks will be shot from the Mayo Farm fields after dark on Independence Day, but town officials recommend that no event parking or public restrooms be available. Without room for hundreds of cars, there won't be space for large numbers of prospective spectators from all over the area. As of now, Stowe is the only town in the area holding the annual fireworks show. To make sure people can see the show, Northstar Fireworks will use high-yield, high-altitude rockets that will be visible from farther away than usual."


---

---

 
Comment Below... And find more stories on Water Cooler
Do you like this post?
---