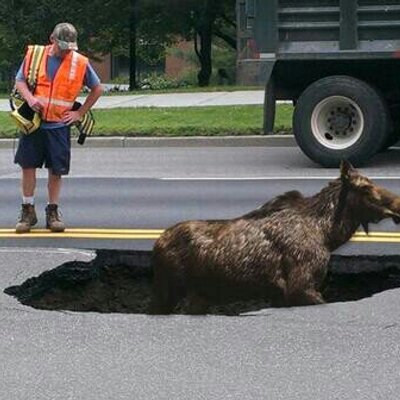 So maybe it's a good thing that the City of Burlington blocked off so many roads during the pandemic? Sink holes have been sprouting up all over town. See photo of moose standing in one on North Avenue in front of Lakeview Cemetery.
"The hole on Loomis has since been repaired, but sink holes are a recurring problem in Burlington. Over the last year, city residents reported 17 sink holes through phone calls, emails, and reports on the website SeeClickFix, DPW Public Information Manager Robert Goulding said. They've puzzled DPW workers, created road blockages, and even inspired quirky Twitter accounts. After a sink hole caused havoc on Battery Street in July 2013, the Twitter account @BtvSinkHole was created. "I'm just your friendly neighborhood sinkhole," the account's bio states."

---

---

Read the Full Story at:


(click logo to be directed to the story)
Comment Below... And find more stories on Water Cooler
Do you like this post?
---