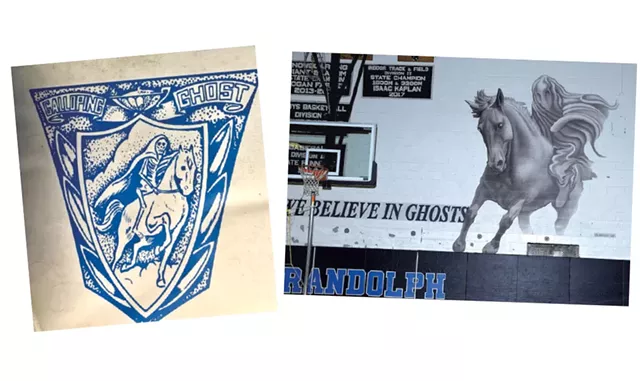 To some people, the Randolph Union High School 'Galloping Ghost' looks like a Klansman on a midnight ride. When the Black Lives Matter flag went up, it was a matter of time before there would be calls for the hooded night rider to come down.
"Randolph Union High School, home of the Galloping Ghosts, has erased a mural of its mascot over concerns that the hooded figure on horseback looked like a Ku Klux Klansman. Debate over the controversial image has ebbed and flowed in the decade since it first went up, but it gained new urgency after students raised a Black Lives Matter flag on campus last year, Orange Southwest School District superintendent Layne Millington said. While some alumni argued for keeping the mural, Millington said he made a unilateral decision to erase the controversial image, which appeared on the gym wall and on some clocks in the school. Workers painted over the mural on Sunday and are replacing the clocks, Millington said."

---

---
Read the Full Story at:

(click logo to be directed to the story)
Comment Below... And find more stories on Water Cooler
Do you like this post?
---