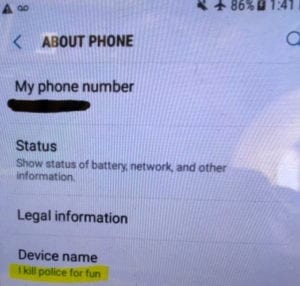 A Plymouth man with a cellphone that says "I kill police for fun" has been arrested for making threats and assaulting a deputy sheriff.
"Kevin Spear, 31, of Plymouth had a .556 caliber AR-type rifle with three 30-round magazines at a Birch Landing Road condominium when authorities conducted a court-ordered search on Tuesday, April 28 , officials said. Another 270 rounds of .556-caliber ammunition were found in a gym bag at the foot of Spear's bed, records show. Ammunition of other calibers also were found, but no firearms for those sizes were located. A cell phone seized from Spear had the name "I kill police for fun," court records show. "


---

---

 
Comment Below... And find more stories on Water Cooler
Do you like this post?
---